Festival des Brodeuses in Pont l'Abbé
Every year, on the second weekend of July, the streets of Pont l'Abbé host the oldest folklore event in France. Created in 1954, the Festival des Brodeuses de Pont l'Abbé is a real institution. During your stay in the South Finistère, don't miss this cultural and festive event.
The origins of the Embroiderers' Festival
History tells us that the Embroiderers' Festival is the worthy heir of an event created in 1909. At the time, Mr. Pichavant was the owner of several embroidery workshops. One morning, he had the idea of choosing a queen and her bridesmaids from among his workers. Together, they would participate in a parade in Pont l'Abbé to honour the embroiderers' guild. The election of the "Queen of the embroiderers" was born.
Why an embroiderers' festival in Pont l'Abbé?
Located in the south of Finistère, Pont-l'Abbé is the capital of the Bigouden country. The town has long had a prosperous textile industry. The profession of embroiderer made the reputation of the city. Honouring the work of these little hands was therefore an obvious choice. In order to pay tribute to them, the tradition has continued to this day.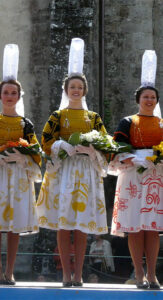 The Embroiderers' Festival today
Although the embroidery workshops have closed in turn, the celebration of the Embroiderers' Festival has lived and grown over the years. In 1954, the event was structured. The first "Fête des Brodeuses de Pont l'Abbé" was born. A few years later, in 2018, it took the name of "Festival des Brodeuses". Although the name has changed, it is still with the same passion and love for their culture that the Bretons celebrate the Festival des Brodeuses every July.
What to do at the Pont-l'Abbé Festival?
For a weekend, you can watch parades, Breton folklore shows and embroidery demonstrations by the Bigoudènes. Every year, nearly 1200 traditional costumes are presented to the public. Exhibitions, headdress ironing demonstrations, country meals and Breton dance and music competitions complete the programme of these unmissable festivities.